If you want to be the next Top Chef, then you need the tools to help you get there. Recipes can call for some steps that work better with tools to help you, but what tools do you need? Well, here are 12 appliances that are necessary for the ultimate chef's kitchen.
1. Instant Read Thermometer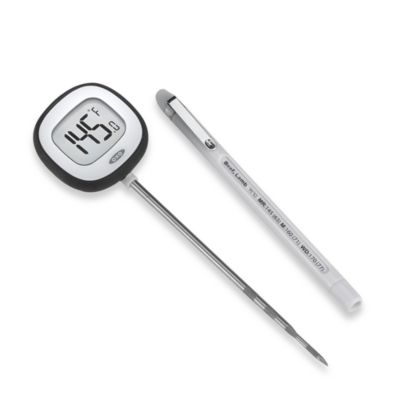 1
As a chef, you will need to keep close watch over temperature. Food can do odd things, and, without your notice, it can skyrocket in temp or not cook fast enough which will create either tough or undercooked food. An instant read thermometer is a good tool to keep an eye on those temperatures so you know what needs to be adjusted and what needs to be taken off the flame.
2. Cast Iron Skillet
A cast iron skillet is a good appliance for any cook to have, seasoned chef or amateur. Skillets are usually large in size and allow for larger recipes and a good iron skillet can be placed in the oven for baking. Plus, it adds the perfect amount of char on red meats.
3. Panini Press
 2
A Panini press is a versatile tool that is mainly used to toast sandwiches. However, it fixed bottom heat pad and movable top heat pad allows for quick grilling of meats and vegetables. Heating pads can sometimes come as ridged to give entrée's stylish grill marks or flat which can be used to sear meats.
4. Slow Cooker
 3
Slow cookers are a godsend for around the clock workers who just want a good meal when they get home. The low and slow cooking is a good method for cooking roasts and pork butts till they are tender.
5. Immersion Blender
 4
For large scale processing or blending, an immersion blender is a must have tool for chefs. This handheld blender is designed to be used on ingredients rather than ingredients placed inside it. It can be used for pureeing soups and much more.
6. Donabe Smoker
 5
Rather than lug out the hulking smoker for unique recipes that call for smoked ingredients or steps, get a Donabe smoker. A Donabe smoker is a pot that sits on a stove that can be used to smoke fish, vegetables, and any meats that strike your fancy. Just be careful of setting the fire alarm off.
7. Indoor Grill
An indoor bbq grill is good for a rainy day and any other day it. This grill means you can keep a closer eye on your grilled food rather than dashing between it and the zucchini chips in the oven. It is also smokeless and is a quick clean rather than using those steel brushes on the blacken grill out back.
8. Garlic Press
 6
Everyone loves a good, garlicky dish, but how it appears in the dish doesn't stay the same. Some recipes call for chopped garlic, others for crushed, or the odd whole clove. However, minced can be found in a majority of recipes. To get a good mince, use a garlic press, which crushes garlic and squeezes the remains out thin holes that easily break apart to give it a minced quality.
9. Citrus Juicer Zester
Many recipes will call for citrus in some form and two tools that are good for a chef to have on hand is a citrus juicer and a micro-plane zester. The juicer gets every drop of juice out without the worry of dropping seeds and the zester is a small, easy-to-hold tool that works for all types of citrus fruits.
10. Broiling Pan
 7
If you are cooking any red meat, you will need a broiling pan. A broiling pan keeps the meat out of the fat and oils that drip off of the meat while it cooks. It is great for steaks and burgers.
11. Splatter Guard
 8
If you are looking to fry something then please, save your skin and get a splatter guard. The guard will allow you to safely fry your desired produce without worrying about boiling oil misting you every time you touch something in the pot.
12. Hand Mixer
For heavy mixing like dough and batters you will need a mixer, counter or handheld works. This will save your shoulder in the long run, and will get all the ingredients incorporated much quicker. As a tip, only mix till you are certain it is entirely mixed and stop, over mixing can affect the taste and texture of a recipe.
A good recipe can only get you so far when it comes to amazing taste. Sometimes, the tools are the final stretch when it comes to an award-winning dinner. Don't fall behind. If you love to cook, investing in a few of these must-have chef tools are a must!
---
1 Photo Source: Bed Bath and Beyond
2 Photo Source: William's Sonoma
3 Photo Source: Kitchen Aid
4 Photo Source: Bon Appetite
5 Photo Source: Donabe
6 Photo Source: Ltl Ariel
7 Photo Source: Nordic Ware
8 Photo Source: Amazon